When an Animal Needs Your Help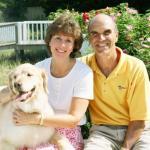 I'm distraught. A wonderful long-time member wrote to me about three incidents she had witnessed where animals in need sought human help-and unfortunately did not always receive it. There were so many lessons in these stories that I wanted to share them with you.
In one of the stories, a duck with a severely mangled beak walked up to the PETA member and pressed himself against her leg, "looking for help." Not knowing what to do, our member left, went back to where she was staying and called an agency, asking it to send someone to the park to help the duck. When I read this, my heart sank. Who knows whether the agency actually went out, and if it did, whether it found the duck and did anything to help him?
The second incident was a bit better: A duck had approached our member while she was in a park, again "clearly looking for help," a hook stuck through her bill. The duck, although wild, had allowed herself to be picked up and held. Our member enlisted someone with a toolkit to help and the duck waited patiently while the hook was cut out before waddling back to her brood on the lake.
In another case, our member found herself in a rather difficult situation. While traveling in Africa, a bull entered a mud hut in the village that she was visiting. He had come there seeking human help, the owners said, because he had eaten something he shouldn't have, and his stomach was painfully distended. Such a condition can be fatal for cattle. The villagers didn't know what to do, and there was no vet around. In this tragic case, the animal did not receive the care that he needed.
In each of these cases, the animals not only needed human help but also clearly asked for it. Are you prepared if an animal in need asks you for help?
Please remember this: Always stay with an animal in need, or plant someone else's feet there while you go for help. You should never drive or walk away, just as you would never leave a lost child, hoping that someone else will answer your call later and find this distressed being. Often, that does not come to pass. When animals come to us looking for help or when we happen upon an animal in need, we must do all that we can, appointments be damned and obligations no mind, to live up to their expectations. If you aren't sure what to do and how to help, here is a guide we put together, or call us any time at 757-622-7382 and dial 2 if you cannot find a solution.
Thanks.