Treat Yourself to a Home-Spa 'Getaway'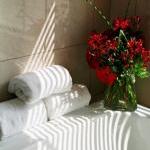 Feel like you need a little "R&R"? Rejuvenate your mind, body, and spirit with some well-deserved pampering. It's easy to recreate many of your favorite spa treatments in the privacy of your own home for a fraction of the price, and on your own schedule too-no appointment necessary! Plus, everybody can relax because there are plenty of great products that were never tested on animals.
Ready to set up your home-spa sanctuary? Start by creating two areas: Your bathroom will become your "treatment room," and your patio, bedroom, or living room will become your "quiet room," where you can relax after your treatment.
Clear away any clutter. Stash your hair products and makeup under the counter. Grab plenty of fresh towels, and most importantly, turn off your computer, television, radio, and cell phone-you shouldn't be distracted during your spa vacation.
I like to start with a body soak, to pamper my skin and send stress and tension down the drain. You'll need the following:
Procedure
Use the following procedure to start off your home-spa "getaway":
Turn on the bath faucet to a comfortable temperature and fill the bath.
Place the bath soak, salts, or oat powder in the tub and swish vigorously to disperse the solution before getting in.
Soak in the tub for 15 to 20 minutes.
While in the tub, take deep, long breaths and exhale slowly as you relax, release tension, and feel refreshed.
Rinse your body, towel off, and grab a glass of water (I like to add a lemon slice or two).
When I can find the time, I like to follow-up my soak with one or more of the following great home-spa "procedures":
Reward yourself with a cruelty-free home-spa day. You-and animals-deserve it!
Have other great home-spa tips? I'd love to hear about them!