Shareholders' Victories!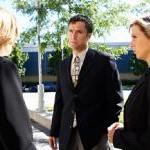 It is the stockholders-not the CEOs, other officers, or employees-who own many of the largest and best-known companies (although many company executives and officers are also stockholders). And stockholders have a right to speak up at annual meetings and submit shareholder resolutions to voice concerns about how the company is being run-and suggest changes. No nonprofit group speaks up more often than PETA to give animals a voice in corporate America (it's true). I'm proud to say that we submit more shareholder resolutions than any other nonprofit anywhere in the country, for any cause. We've become the biggest player in "shareholder activism" (buying stock in companies for the purpose of moving the company on a social issue)-not just in the animal world but in the whole NGO world.Only about half of all shareholder resolutions that PETA files actually come to a vote. Often, companies negotiate with us in order to avoid our resolutions and statements at their shareholder meetings.
Recent victories from the negotiating table include the following:
Chipotle Restaurants agreed to give purchasing preference to chicken suppliers that use controlled-atmosphere killing (CAK), the least cruel method of chicken slaughter.
Safeway created an animal welfare council, and it began phasing in cage-free eggs, crate-free pork, and poultry killed by CAK the next year.
Burger King is phasing in cage-free eggs and crate-free pork and giving purchasing preference to chicken suppliers that use CAK.
Harris Teeter and Winn-Dixie increased their use of cage-free eggs and are phasing in crate-free pork and poultry killed by CAK.
In the realm of animals who are subjected to testing in laboratories, PETA has opened the doors to a number of the largest corporations in the world and meets with them annually as a result of shareholder resolutions. Change is coming: PETA is moving the industry forward to reduce, refine, and replace animal testing. Consider the following victories:
General Electric has initiated major enrichment measures for animals.
Dow Chemical is now publishing with the Physicians Committee for Responsible Medicine on in vitro test methods relating to skin absorption.
Exxon and the American Petroleum Institute are developing a computer model for toxicology that will save tens of thousands of animals.
Schering invited PETA's Deb Durham to speak to its animal caretakers.
Johnson & Johnson created a new position to implement PETA's recommendations.
DuPont formed an animal-issues team with senior leadership and is funding a computer-based alternative to save animals from test procedures.
Medtronic will meet with PETA twice per year and will extend its animal welfare guidelines to foreign operations.
Much remains to be done, of course. If you do happen to own stock in abusive companies, you can help by donating it to PETA, which will enable us to speak up as shareholders or negotiate with company executives. What companies should PETA target next, and why?