Rue McClanahan Welcomes You to PETA Prime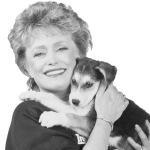 If there were ever a great time to be over 50, this is it! Our experience coupled with our seasoned hearts give us the power to change the world. And it's easy to do, because the simple choices that we make every day can improve our own wellbeing, the lives of animals, and the planet.
That's why I'm excited to introduce you to PETAPrime.org-a brand-new Web site full of great resources to help all of us live more compassionate, greener, and healthier lives. At PETAPrime.org, you'll find useful information and great tips about how you can help animals, yourself, and the global community by making animal-friendly choices. You'll find fun giveaways, travel tips, home and gardening ideas, recipes, companion animal stories, lovely photos, and much more.
It's your one-stop "shop" for what's important to you.
So please join me in celebrating kind choices at PETAPrime.org.
Fondly,
Rue McClanahan, Honorary Director
People for the Ethical Treatment of Animals