Rosh Hashanah: The Jewish New Year and 'Food Teshuvah'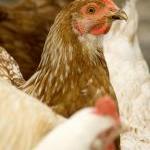 Tonight is the beginning of Rosh Hashanah (the Jewish New Year). With the new year comes a 10-day stretch when Jews do teshuvah (repentance) for sins committed in the past year and vow to do better. Earlier this month, Rabbi Rachel Kahn-Troster wrote about "food teshuvah" on The Jew & The Carrot, the leading Jewish food blog:
The traditional confession … includes one for sins of food and drink, but it doesn't specify what that means. … Who does it hurt, after all, if I eat just one more fried, reconstituted chicken nugget? . . . The rabbis categorized our wrongdoing as either between a person and G-d or between fellow people. Food sins, rather than being benign, could be seen as both: wastes of the bounty of G-d's creation and destructive to the fragile environment that we share with other[s].
Although Rabbi Kahn-Troster doesn't focus on vegetarianism, the question of who gets hurt when people eat chickens is an important one. (Chickens do, of course!) Most chickens raised for their flesh (including for kosher meat) are tightly packed into factory-farm sheds, often by the tens of thousands. The birds are bred and drugged to become so top-heavy that they often collapse under their own weight. Eating chickens means contributing to unnecessary animal suffering (in Hebrew, tza'ar ba'alei chayim). And let's not forget that meat endangers the environment and our health,  which means that vegetarianism is also a great way to prevent wasteful, wanton destruction (bal tashchit) and safeguard our health (pikuach nefesh).
Now is as good a time as any for all of us—regardless of our religious beliefs—to think about our eating habits and ask, "Do my dietary choices cause others suffering?" The best way to help animals—and do food teshuvah—is to go vegetarian or vegan.
Of course, that doesn't necessarily mean changing everything overnight. PETA's "Vegetarian Starter Kit" has great recipes and tips for an easy transition to a vegetarian diet. (There are many resources available for meat-free versions of traditional Jewish foods as well.) Rabbi Kahn-Troster acknowledges that it can be difficult to change eating habits quickly enough for it to count as teshuvah, but a change in mindset (and intentions) will do the trick.
The realities of factory farming and meat consumption contradict the values that Jews promote and focus on during this holy period. In asking for G-d's compassion and blessings in the year to come, it's important to be compassionate in our own lives. Here's wishing a happy and healthy new year to all—humans and nonhuman animals alike!
—Posted by Michael Croland, Guest Blogger. Michael runs heebnvegan, a Jewish blog about animal rights.