One Can Make a Difference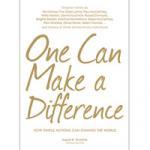 The following post was originally published by Ingrid E. Newkirk on The PETA Files. Click here to view the original post.
Some people ask me if it is true that my latest book, One Can Make a Difference, contains essays by people who have done things like make documentary films or compose songs, collect shoes for South American village children, clean up the base camp at Mount Everest, or make people laugh—instead of being all about animals? Well, yes, but I'll reveal my secret. Every single one of the more than 50 people in the book—from the famous people such as Sir Paul McCartney (the world's most famous "veggie"), Stella McCartney (who is adamantly opposed to fur and leather), Petra Nemcova (the supermodel who stopped eating fish after she saw them on the beach in Thailand after a tsunami), Dr. Henry Heimlich (a staunch anti-vivisectionist), and Willie Nelson (who fought to ban horse slaughter) to the little-known seal-hunt protesters, soup-kitchen operators, performance artists, and sanctuary founders—are kind souls. If they weren't, they wouldn't have made the cut.
As the author John Galsworthy said (and those of you who've heard me speak know that I often repeat this), the three most important things in life are to be kind, to be kind, and … yup, to be kind. His Holiness The Dalai Lama is in my book, and he says pretty much the same thing in his lovely little essay about how a person's religion should be based on compassion—nothing else matters. Now, some essays, including those by Brigitte Bardot, Rachel Rosenthal, Carol Buckley, and Peter Hammarstadt, are all about animals: elephants and cats and mice and whales specifically, but you will find animals—such as Doris Richard's dogs—peeking out of other essays too. And in the essays that do not mention animals, the spirit of the writer leaves you no doubt that he or she would no more ignore a bird fallen out of a nest than he or she would step over a destitute human being.
I hope that my book will open hearts to the diversity of life and open eyes fully to the stunning number of ways in which one—anyone—can make a difference. Writing it was a great experience. I hope that reading it will be just as much fun!
P.S. Tell us why you make a difference! Comment below to win an autographed copy of One Can Make a Difference! You can also go here to nominate someone who makes a difference.
You can post comments until October 6 to win the book. We will contact the winner on October 7. Be sure to read the contest terms and conditions and PETA's privacy policy before you comment. By leaving a comment, you're acknowledging that you have read and agree to both.