My Newest Podcast: 'Love That Cat!'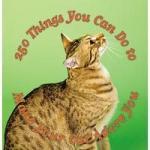 Please join me for a reading of an excerpt from my recently published book 250 Things You Can Do to Make Your Cat Adore You. I'll tell you all about my top tips on how to be the best guardian you can for your cat—including fun ideas for making your home interesting for your cat as well.
You can listen to the podcast right from your computer, or you can download it, put it on your iPod, and listen as you commute to work. It's easy. And please let me know what you think.