Just in From Washington, DC: Boomers Just Want to Have Fun—and Go Veg!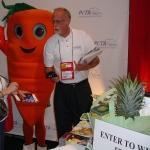 I just returned from Washington, D.C., where, for the fourth year in a row, PETA staffed a booth at the annual AARP convention. It was amazing!
We had more than 1,000 people visit our booth over the course of the three-day conference. All wanted more information about veganism-recipes, nutritional information, and details on how it helps the environment, our health, and animals.
I knew we were onto something when two ladies stopped by just after having their cholesterol checked at another booth. Apparently, one of them had an alarmingly high level of bad cholesterol. That led them to hightail it over to our booth for a copy of our "Vegetarian Starter Kit"! The fact that it's now common knowledge that eating veg can lower your cholesterol is a huge deal. The times, they are a-changin'!
Being at the convention also reminded me of how much I like people my own age. Experience does count. Maybe there's just not that much left to prove to anyone other than ourselves. Maybe it's just the people who came to this conference, but it seemed to me that we boomers are comfortable in our own skin, funny, welcoming, easy to talk to, and open-minded-and ready to have a good time! (The free earplugs at the booth next to ours were extremely popular for the droves of people headed to the Chicago concert on Friday night!)
Next year, the convention is in Las Vegas. I can't wait! See you there!