Ease the Grief by Adopting a Senior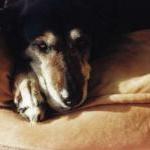 Zoe-adopted at age 12!
Years ago, I used to cry for weeks when one of my animals died or I had to make the heartbreaking decision that it was time to end his or her suffering. I always thought my animal friend was so special and irreplaceable that I would never again find such a special friend. I think I might have thought that replacing my companion too soon would be disrespectful.
Over the years, I have adopted many homeless animals. I have realized that every animal is special. Over time, that special attachment develops with each and every one. Rather than spend time mourning when I lose one of my animal companions, I immediately go to an animal shelter or rescue group and adopt a "senior." Rather than mourn my loss, I put my energy into incorporating the newest member of the family and dealing with the new pack dynamics. I think that somehow my deceased friend helps guide my adoption choice and is cheering the rescue of another senior kitty/doggy brother/sister.
These "seniors" surprise me so often. They blossom and seem to regain their youth, and they remain part of the family for years. Sometimes our time together is short, but I feel good knowing that I have provided love and a comfortable home for their remaining time. Kittens and puppies are cute and fun, but seniors are often the ones least likely to be adopted, and there's something really special about adopting a senior animal.
Oh- that's a picture of one of my companions, Zoe. When I adopted her, the shelter said she was probably 12 years old- and that was five years ago!
I'd love to hear about other people's experiences with adopting seniors. Please leave me a comment.