Cooking for Our Vegetarian Dogs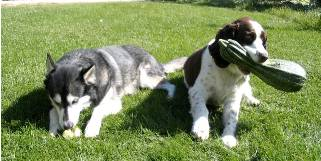 There's so much interest in the green movement, and people everywhere are trying to be careful and conscientious about their food choices. But what about our dogs?
Dogs, like people, are omnivores. They can live happy and healthy lives on a vegetarian diet, and believe me, it is a whole lot easier to convert dogs than people. Dogs are not stuck on tradition, and they adapt quite well to eating lower on the food chain.
My parents' dogs, Patty and Woofie (pictured here), have been vegetarians ever since we rescued them more than 10 years ago. My dog, Zoey, was a 12-year-old skinny swayback when I rescued her five years ago, and she has been eating my vegetarian cooking and doing great ever since. I must admit, however, that our dogs cheat now and then. They occasionally charm their way into getting treats from new friends at the dog park or on dog walks, and they do, from time to time, scarf down dead fish they find on the beach.
Some dogs are super-easy. Vegetarian dog food is available at most local pet stores and can be specially ordered in bulk from local health-food stores. If you can't locate it where you live, you can also buy it online through the PETA Catalog. You can buy canned wet vegetarian dog food to mix in with the dry. Better yet, you can make your own dog food and dog biscuits for a fraction of the cost.
Here are two recipes for you from my mother and me! Let us know what your dogs think.
Kerry's Vegetarian Dog Food-Slow-Cooker Method
2 cups dry split peas
1 cup dried lentils
1 cup barley
1 cut up carrot
1 cut up potato
1/2 cup corn meal
1/2 cup oatmeal
12 1/2 cups water
Put all the ingredients in a big slow cooker and let cook for anywhere from 5 to 8 hours.
That's all there is to it. It will keep for up to a week in a plastic container in the refrigerator, and if you are cooking for one, you can freeze the extra. At feeding time (breakfast and dinner), I mix this half and half with store-bought vegetarian dry food.
The recipe is really just the starting point. I buy 20-pound bags of locally grown lentils, split peas, and barley from our local bean and pea company to use as the basic ingredients, but I often add green beans, acorn squash, leftover whole-wheat bread, sweet corn, soy milk, textured vegetable protein (TVP), apples, and leftovers from our vegetarian meals. It all depends on what is on sale, in the refrigerator, or ripe in the garden. (I avoid onions and grapes because they can harm some dogs.)
Chris' Vegan Dog Biscuits
5 cups whole-wheat flour
1 cup powdered soy milk (or soy flour)
1 tsp. salt
1 tsp. garlic powder
1/2 cup margarine
3/4 cup peanut butter (ground peanuts)
2 tsp. brown sugar
1 cup nutritional yeast flakes
1 cup textured vegetabe protein (TVP)
3 heaping T VEGEDOG supplements (available from Harbingers of a New Age)
2 1/2 cups cold water
Preheat the oven to 380°F. Combine solids. Cut in margarine and peanut butter thoroughly with a multiple-blade pastry cutter. Add water, then roll up your sleeves and mix with a table knife until you have a uniform mixture that is not sticky. Roll out 1/3 portions of flour or corn meal to about 1/4 inch or less, then cut in long strips and bake on ungreased cookie sheets until medium-brown. The biscuits should be tough and crunchy when cool. Break into appropriately sized chunks and store in an airproof container.