Change Your Diet, Change Your World—AARP Suggests Eating Less Meat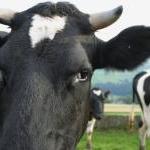 A recent edition of AARP Bulletin Today featured some great tips for going green. One of their suggestions—which would collectively reduce greenhouse-gas emissions by 1.9 million tons—is to reduce meat consumption by 25 percent. I agree with the idea behind this suggestion, but I have to ask: Why stop there? Why not save almost 8 million tons by going vegetarian instead?
Global warming has been called humankind's "greatest challenge" and the world's gravest environmental threat. But the solutions are within our grasp. Science overwhelmingly shows that one of the most effective ways to fight global warming is by going vegetarian. Consider the following:
A 2006 United Nations report found that the meat industry produces more greenhouse-gas emissions than all the SUVs, cars, trucks, planes, and ships in the world combined.
The University of Chicago reports that going vegan is 50 percent more effective in reducing greenhouse-gas emissions than switching to a hybrid car.
Raising animals for meat, eggs, or milk is one of the world's leading emitters of carbon dioxide (CO2). But global warming is caused by more than just CO2. Animal agriculture is the leading source of methane and nitrous oxide emissions, which—combined with carbon dioxide—cause the vast majority of global warming.
Eating 1lb. of meat is responsible for the same amount of greenhouse-gas emissions as driving an SUV 40 miles.
By eliminating meat, eggs, and dairy products from our diets, we can fight the global warming crisis and leave a green legacy for those who follow us.
Removing meat and other animal products from our diets is also the best way to take care of ourselves. Leading health experts agree that going vegan (pure vegetarian) is the single-best thing that we can do for ourselves and family members. A healthy vegetarian diet supports a lifetime of good health and provides protection against numerous diseases, including our country's three biggest killers: heart disease, cancer, and strokes. Consider the following:
Research has shown that vegetarians are 50 percent less likely to develop heart disease, and they have 40 percent of the cancer rate that meat-eaters have.
Meat-eaters are nine times more likely to be obese than people following a vegan diet.
Scientists have found that vegetarians have stronger immune systems than meat-eaters do, so vegetarians are less susceptible to everyday illnesses, like the flu.
AARP is right: We have the power to fight global warming, so why not do the one thing that can have the biggest impact and stop eating animal products altogether? Sir Paul McCartney says it best: "I think the biggest change anyone could make in their own lifestyle would be to become vegetarian."