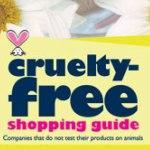 I love shopping, and finding a great health-food store is totally fun for me. It is so much easier to be vegan now than it was when I stopped eating animal products 12 years ago. Faux meat and soy products are abundant, and vegan cheese tastes great and melts easily. Although I am more of a purist when it comes to eating-meaning I love simple vegetables, beans, and grains-it is a real treat to be able to throw a barbecue and serve Field Roast brats with sauerkraut and mustard on a roll, as my friends Scott and J.R. did recently. Veggie brats taste like the real thing. Trust me, I grew up on the East Coast.
Buying clothes is something else that I enjoy, and finding clothes that are vegan (i.e., free of all animal products, like leather and wool) has made shopping more of an adventure. I wear cute canvas sneakers instead of leather shoes made from dead animals. And forget all those wool sweaters! Natural fibers are everywhere now. Vegan fashion seems to be more fun and hip, and it has a definite independent edge to it. I like that. It makes me feel younger, and it's a great way to start conversations about the cruelty of the leather, wool, fur, and silk industries. I can't tell you how many times salespeople have shown me a "to die for" (a phrase with new meaning for me) leather belt or wool sweater, which opens up the door for me to give them a quick lesson about the cruelty involved in making those products. When I show the same salespeople my new vegan Matt and Nat handbag, they're amazed that it's not leather and want to know where they can buy one! Online shopping has made finding vegan fashions a lot easier. Check out this great Shopping Guide on the PETA Living Blog.
Personal-care items are another great reason to be a caring consumer when you're shopping. Cruelty-free vegan products aren't made from animal products or tested on animals, and they're great for your skin, your hair, and all your other needs. Vegan products feel pure and clean-and so will your conscience when you know that your cosmetics purchases aren't contributing to the suffering of animals. And it's easier now than ever to find great cruelty-free products: You can easily look up products and companies online to make sure that the products you buy are cruelty-free.
The cleaning products that I use at home are all vegan and eco-friendly. I never buy anything for cleaning my house or dishes unless it's vegan. Vegan products are everywhere now, and they're easy to buy and affordable. Not only are vegan products good for animals' health and well-being, they are also good for yours. And they're good for the planet too. My allergies and asthma disappeared completely as soon as I got rid of all the animal-laden products in my house and started using cruelty-free ones instead. I also sleep better at night because I know that my purchasing choices didn't hurt any animals.
Being a caring consumer is a lifestyle for me, whether I'm shopping for food, clothes, household items, or personal-care products-or anything in between. Even my choices in furniture have been shaped by my veganism. Did you know that many couches and easy chairs are stuffed with down feathers and that lots of rugs are still woven with wool? As a consumer, every purchase that you make is stating your opinion and casting your vote for the products of the future. As a caring consumer, you can speak for animals by casting your vote against cruelty and paving the way for positive changes for animals everywhere.
An easy way to become a caring consumer is to browse the PETA Mall!