Battle of the Bulge: Vegetarianism and Weight Loss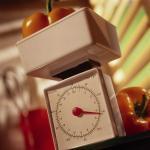 Just about everybody has a few extra pounds that they'd be happy to see the last of. If you're vegetarian, the good news is that it's more likely to be 5 pounds than 50. In fact, a recent study that at first glance seems to vindicate the Atkins diet-perhaps because it was funded in part by the Atkins Foundation-actually backs up previous studies that indicate that a vegetarian diet is the best way to lose weight and keep it off. That's because the folks who were assigned a low-carb diet in the study were encouraged to choose vegetarian low-carb foods-a key detail that was buried in the fine print of most news reports about this study.
But for some folks, simply making the switch from beef to beans doesn't quite do the trick. PETA Prime recently received an e-mail from a young man whose mother has switched to a vegetarian diet but has found that she is actually gaining weight-the opposite of what happens to most people who make the switch. There could be a variety of explanations for this. She's not vegan-yet-so she might be replacing meat with cheese, which is a big no-no, both for your health and for the dairy cows' health. Most cheeses are loaded with saturated fat and calories, so if you're replacing meat with mozzarella, you aren't doing your diet any favors.
She might also be snacking on high-calorie foods like potato chips, corn chips, crackers, nuts, and sweets, as well as high-calorie drinks like sodas, lattés, and mixed drinks.
When you're trying to lose weight, it all boils down to a simple equation: You have to burn more calories than you consume. It's really that simple. The reason why so many vegetarians don't have a weight problem is that so many vegetarian foods are low in fat and calories (e.g., beans, lentils, squash, spinach, carrots, tomatoes, eggplant, mushrooms, and most mock meats). In other words, by choosing vegetarian foods, you're automatically more inclined to choose foods that are diet-friendly.
But if you're finding that the pounds aren't melting away, you're going to have to start reading labels. In addition to making sure that the product is free of animal ingredients, check the calorie and fat counts. You might be surprised to learn how many processed foods manage to sneak in those dastardly partially hydrogenated oils, which, in addition to contributing to heart disease, are loaded with calories. I was shocked to learn that my favorite cookies in the vending machine pack more than 400 calories into a 2-oz. bag. Yikes! That weaned me off that particular addiction pretty quickly.
The following are some more weight loss tips from PETA's Animal Times' "Doctor in the House," Dr. Neal Barnard:
Eat low-fat foods that are high in complex carbohydrates (e.g. whole grains) instead of the simple carbohydrates found in foods made with white flour and refined sugar. Veggie casseroles, whole grain pasta with tomato sauce, vegetable curries and stir-fries (just go easy on the oil), and lentil and bean stews are hearty main courses that will fill you up without filling out your jeans.
Keep high-fat vegetarian foods (vegetable oils, nuts and nut butters, margarines, sweets, and fried foods) to a minimum. Try topping baked potatoes with steamed veggies instead of margarine and sour cream, and spread jam (without margarine) on toast.
Get active! As little as 20 to 30 minutes of walking, jogging, or low-impact aerobics three times a week will increase your metabolism and give you more energy.
For more tips, check out the sassy diet book that all the skinniest celebs are reading: Skinny Bitch and its new companion cookbook, Skinny Bitch in the Kitch.