Arcata, California: Where the '60s Meet the Sea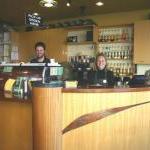 Arcata, California, is a small university town on the north end of Humboldt Bay halfway between Eugene, Oregon, and San Francisco, California. It's well known for its hippie counterculture, progressive politics, and vegetarian restaurants.
I have been going to Arcata once or twice a year for about 15 years for short vacations from the city. I love the peace and quiet of the place, the beauty of the redwood forest, and the wildlife who coexist with the Arcatians. But what I really love about Arcata is the food. I am a cook, so when I am not on vacation, I don't go out to eat much. But when I go to Arcata, I am in veg-restaurant heaven.
On a recent trip, I made a new discovery: a vegetarian sushi truck, which is a mobile lunch vehicle, except that it's permanently parked between G and H streets. In Arcata, it's simply called "agogo." Erin and Kalindi are the owners and master veg-sushi rollers. They have about 35 different rolls to choose from, and all of them are vegan except for the three that contain cream cheese. (I hope that by my next trip, they will be using vegan cream cheese instead.)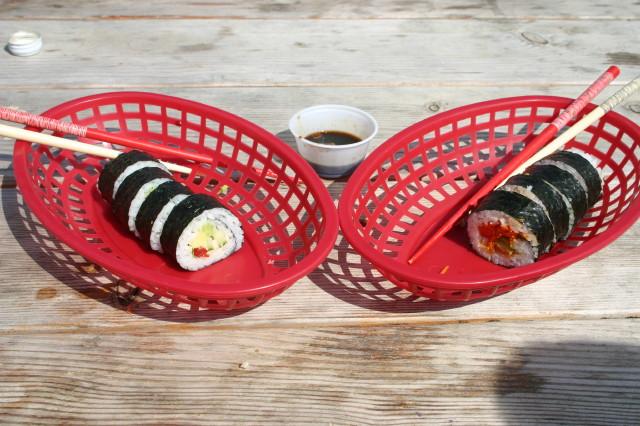 They have the basic avocado, tofu, hummus, and veggie rolls, but they also have unusual varieties. The "jammin' yammin" roll is stuffed with red bell peppers, steamed yam, jalapeños, cashew butter, and mango chutney. The "tiki" roll is a different take, made with shredded coconut, avocado, basil, steamed yam, cilantro, cashew butter, and lemon. And how about the name "trees and mud"? This concoction has broccoli and almond butter (the "trees and mud" part) with carrots, avocado, and sesame seeds. You also get a variety of sauces to choose from, including ginger, spicy peanut, and sunflower butter, among others. With so many different options to choose from, you might order more than you plan to-I know I did. But they were worth every bite.
Erin and Kalinda are also delightful hosts. They welcomed me into their kitchen (the back of the truck) and let me take pictures and chat while they rolled our lunch. Next time you are in Arcata, look them up, and you'll find one of the most entertaining lunches that you'll have there-I guarantee it!
Who needs Starbucks when you have the Jitter Bean, a great little coffeehouse right on the Arcata plaza?  When you arrive, Katie greets you with a genuine smile, and Austin makes the best soy cappuccino in town. They have a delish selection of vegan treats, locally baked by Royal Cookie Capers. I tried the lemon poppyseed cake, and my husband, David, had the pumpkin bread. For your morning coffee or that after-lunch break, the Jitter Bean is definitely the place to go in Arcata.
Arcatians have a saying-"Arcata, where the '60s meet the sea"-and believe me, the '60s are alive and well in Humboldt County. If you are looking for a laid-back vacation with plenty of vegetarian and vegan options at most of the restaurants in town, Arcata is the place for you.