'I Want a Puppy!'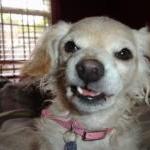 Puppies are cursed with being among the most adorable creatures on Earth. Whether we're talking wolf or Weimaraner, people tend to smile when they see them, and I've seen near riots at animal shelters and adoption events as people fought to get one of the shelter pups available for adoption. If you've ever taken a pup into your family, how did you make your decision?
Recent adoption events that I've led have left me reeling at how far we still have to go in educating the public about the decades of commitment that come with adoption. One must carefully consider activity level, grooming requirements, medical expenses, and other factors that make for a successful lifetime relationship with a young canine (wolf pups now excluded, of course; wild canids need to stay wild and free!).
For example, a woman and her daughter approached our small group of volunteers and canines when we were at an off-site adoption event. We had a nice mix of adult dogs and pups, mixed-breeds and purebreds, looking for new lifetime homes.
"Do you have any Samoyeds?" she asked. I explained that the animal shelter does get them in but that we didn't have any with us or at the shelter at the time. Then I inquired about how they came to ask about that breed. "Well, she's been looking at them on the Internet, and those puppies sure are cute. Some friends have given me the name of a local breeder." She assured me that her daughter would not have a problem with grooming the dog since she liked to brush the hair of her dolls.
We had a wonderful discussion about the sometimes stubborn disposition of Samoyeds (OK, tell me if you've had one who wasn't!), their high activity level and tendency to take off when given any opportunity, and the fact that the woman and her daughter were gone eight hours a day and had never had a dog before. We also talked about puppy mills and breeders, the millions of homeless dogs in animal shelters and listed on Petfinder.org, and the less lucky dogs out on the streets. The woman and her daughter left committed to better researching their new animal companion, specifically considering a young adult dog, and visiting the animal shelter.
The Internet brings us all manner of information on things, but sadly, it is being exploited by those who breed dogs (and cats) for profit and care not a bit about whether the animals they sell are happy in their new homes for a lifetime. Just as the television show Frasier led to a Jack Russell craze and every re-release of 101 Dalmatians sends people looking for that breed, Web pictures and claims about labradoodles, Samoyeds, and other breeds lead to poor decisions. And poor decisions lead to suffering animals.
So, what do you and your friends, family members, and coworkers consider when looking for a new puppy (or kitten)?